Do you suffer from asthma or allergies? Do you want to kill mold naturally? This is one of the most amazing diffusers that I have found. This diffuser may look small but it packs a punch and it's sole purpose is to kill airborne viruses, bacteria, mold, pests and odors. The Aroma-Ace Atomizing Diffuser is really an all in one product. Its also great to use for mood enhancement, relaxation, well-being and air purification.
Simply put, an atomizing diffuser is a cold air/nebulizing diffuser. This is a process which forces the breakdown of essential oils into tiny particles. It requires a high velocity, pressurized air stream and has a specifically designed jet nozzle. The rate of evaporation is highly accelerated and occurs almost instantly. This is why doctors prescribe the use of a medical nebulizer to patients. Only a nebulizing/atomizing diffuser will do the job correctly and effectively.
How the Aroma-Ace Essential Oil Atomizing Diffuser Works
The Aroma-Ace Atomizing Diffuser uses cold diffusion technology. This means it does not use heat or water and therefore you are getting the highest potency of the effectiveness from the essential oils. Cold diffusion technology preserves the natural essence and complete therapeutic benefits of essential oils by transforming them into a fine vapor.
The Aroma-Ace has a built in timer to control your essential oil usage. You just get a bottle of your favorite essential oil, connect it to the atomizer attachment on the side, plug it in and turn it on. It's all ready to go. Once you start using the Aroma-Ace, you will wonder how you ever did without it. It is truly a gift if you suffer from allergies like I did when I was a child.
I took everything from allergy medications, nose sprays and even had testing done by a specialist/allergist. I can tell you that it wasn't a pleasant experience. My mother use to tell me that I always sounded like I had a cold. I ended up having to have my adenoids and my tonsils removed, however the medical profession no longer recommends this method due to complications that can occur to a child's immune system. This took place long ago in the late 70s but how I wish I would of had an atomizing diffuser like this. It would of saved my mother as well as myself a world of frustrations battling my allergies.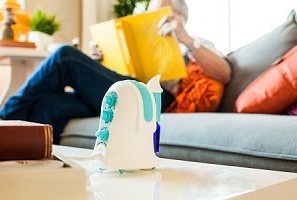 Pros
Cons
The only thing that could be a disadvantage for some is the cost at $129.00 but if you look at it from the standpoint that it does costs much more to create a steady pressurized cold air flow than to create heat or rotate a fan. No method of diffusing is as effective in preserving the natural healing qualities of essential oils. It's like that old saying…"You get what you pay for".
What Others Say About the Aroma-Ace Atomizing Diffuser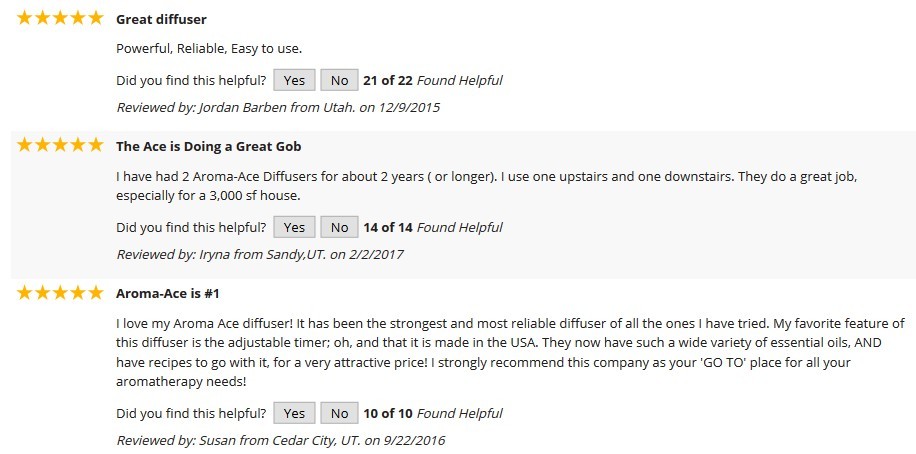 Dimensions: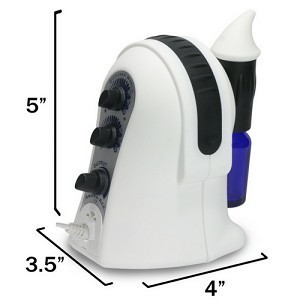 Final Thoughts
The manufacturer, Diffuser World, includes a 5-year warranty which can give you peace of mind. The Aroma-Ace is the most powerful diffuser on the market which is why it carries the longest warranty. You will need to complete a registration card and mail it in within 30 days of purchase to be covered under the warranty.
You will also get two 15 ml atomizer attachments with bottles. You can change the essential oils quickly by simply twisting a new bottle of essential oil into the attachment without mixing or spilling.
This Aroma-Ace can cover up to 1,500 sq ft. Power Source: Wall plug – AC 110v unit/60 Hz 6W. (N. America Voltage) This retails at $139 however purchasing here, Diffuser World offers this as a bundle for a limited time that includes three essential oils currently for $129.00. (Price is subject to change) With all the amazing benefits you get from this diffuser, it's no wonder it's Diffuser World's top seller.
If I had only had this years ago, but I'm happy that there's now a product that can offer relief to allergy and asthma suffers which can contribute to your overall health and well-being.
Click here to buy the Aroma-Ace Atomizing Essential Oil Diffuser
When starting any new essential oil therapy, it is recommended to consult with your doctor to make sure you have no allergic reactions to using essential oils or if using them in conjunction with medications. Never ingest any essential oils due to toxicity. Always look for 100% pure essential oils for the best effectiveness.

If you are starting out with essential oils, here are the ones I recommend and use.
If you have any questions about the Aroma-Ace Atomizing Diffuser, please leave a comment in the section below and I will be happy to help.