Aroma-Express™ Essential Oil Atomizing Diffuser Review
This is by far one of the best diffusers for multi purposes. If you suffer from allergies or asthma, I highly recommend an atomizing diffuser. Not just an atomizing diffuser, but one you can travel anywhere with. The Aroma-Express Essential Oil Atomizing Diffuser is the size of a coffee mug and even fits right in my cup holder of my car so I have it on the road while traveling or just anywhere in my home. What I like most is that it is a cold-air diffuser that disperses essential oils into the air on a molecular level. This is at the highest level of diffusing essential oils because you are breathing in the benefits of the oils since they are not being destroyed by any heat.
How the Aroma-Express Essential Oil Atomizing Diffuser Works
The diffuser has an adjustable time and mist option and Includes an AC power adapter, four AA batteries, a wall plug, and a USB cable. It should have a full charge if taking it with you on the go. With no power cord, you can take it in your car or from room to room in your home. I LOVE that it's portable and that I can travel with it. You can set the Aroma-Express to run at different intervals with a rest time in between or let it run continuously.
All you do is place the chargeable batteries in the charging station and place inside the atomizer. Then you attach the straw (jet type nozzle) in your essential bottle, place it inside the opening at the top of the atomizer and screw on the top, plug it in to charge and set your timer in the settings. That's it. The Aroma-Express can hold a 15 ml bottle of essential oil and the use time will vary according to running it continuously or if running it in intervals. A 15 ml bottle typically contains 275 to 300 drops of essential oil so it should last you awhile.
See How To Use The Aroma Express Here

My Thoughts on the Aroma-Express Essential Oil Atomizing Diffuser
If you are an allergy or asthma suffer, a good quality atomizing diffuser makes a world of difference than a humidifier diffuser. Let's look at the difference.
Atomizer
The atomizer is just like a diffuser. Some people call it a Nebulizer. Atomizer does the same job as a diffuser does, the main difference is Atomizer breaks down essential oils into very tiny particles. It requires a high velocity, pressurized air stream, and a specially designed jet nozzle. (No water is required) The rate of evaporation is highly accelerated and occurs almost instantly.
Humidifier
Using water and essential oil mixed together, a mist can be formed which will fill the air. This mist is produced by a fan, heat or ultrasonic waves or energy.
Not everyone understands that there are therapeutic diffusion methods (atomizing/nebulizing), and non-therapeutic diffusion methods (water-vapor, heat, fan).
I have suffered from allergies my whole life and using the Aroma-Express Essential Oil Atomizing Diffuser makes a world of difference in my life, not to mention the fact that I can take it on the go with me. Best of all, I have no messy clean-ups since it doesn't use water.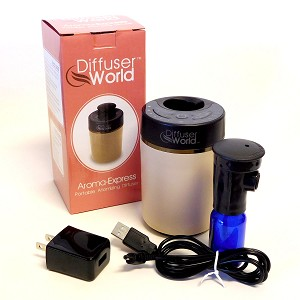 Pros and Cons
What I like about this is that it's great for travel, it has different time settings and once it shuts off and you turn it back on, it defaults to those same settings. I also like there are 2 color options to choose from, either black or beige. It runs quietly when I have it on at bedtime and it can easily cover a space up to 600 sq ft. Another benefit is not having to keep it plugged in and you can take it from room to room without the hassle of a cord. The batteries it comes with are rechargeable and it includes a 1-year warranty which always gives me peace of mind with anything that can be a multi functional product.
The only negative with this is that external timers will not work with it because a manual touch is required to turn on the power. With that said, all the other things I do like about this being a multipurpose atomizer/diffuser makes up for it.
Final Thoughts
What can I say but I love it! The price point is also great compared to most high end nebulizing diffusers that cost over $100. You will get a lot of use from this and the best benefit of all is improving your health and well-being. I've noticed a big difference with my allergies and even the way I feel more relaxed when traveling and overall I have better quality sleep.
Click Here To Get Your Aroma-Express Essential Oil Atomizing Diffuser

Update: For a limited time, you can get the Aroma Express Atomizing Diffuser with a 15ml diffuser cleaner and a USB car adapter for $83.48. The diffuser alone is normally $79.98 as shown above. Click here for the limited time special offer.
Have you used this diffuser? We would love to hear from you on what you experienced using it. Please leave your comment in the section below.