I've always thought that wearing sunscreen on my face and chest was the best preventative method of caring for those areas to prevent the signs of aging from brown spots, wrinkles, and uneven skin tone. What I have been neglecting was my neck, which lately has become very dry. As we age, our skin is more prone to collagen loss, which can lead to loose skin that creates the look known as "turkey neck." Some people lose skin elasticity faster than others for genetic reasons, but all in all, we want to take care of not just the skin on our face and chest, but also on our neck, which prompted me to write this Simply Neck Oil Review.
How Simply Neck Oil Works
Simply Neck Oil is rich in high concentrations of vitamins, minerals, and powerful antioxidants, including Vitamin E, Vitamin C, and essential fatty acids – all from 100% natural sources.
What is a Décolleté? It's a beautiful French word meaning "wearing a low-neck dress." It's also the word we use to refer to our upper chest area, including the neck, cleavage and shoulder areas. The skin on the décolletage is one of the first places women show their age; this is because the area has less elasticity and thinner skin tissue than our faces. Women often overlook the décolletage when it comes to skin care, not realizing they should be treating it with just as much care as the face.
How to Use:
Cleanse skin with Simply Cleansing Oil or your favorite cleanser.
Use fingertips to apply Simply Neck Oil to neck, jawline, and décolletage in gentle circular motions.
Make sure to massage up behind the ears and on back of neck to help preserve elasticity.
Use morning and evening as part of your regular skincare routine.
My Thoughts on Simply Neck Oil
You will feel the difference in your skin as it becomes firmer and hydrated however results can vary since everyone is different. It's not recommended while pregnant or breast feeding. It is a 100% all-natural product. There are no chemicals of any kind and nothing synthetic. I love all of Healing Natural Oils products and this one is another great find and smells wonderful. Better than going to a dermatologist and less expensive in my opinion.
Simply Neck Oil conveniently comes in two sizes.
The 11 Ml bottle is – $32.95 and the 33 Ml bottle is $64.95.
The Ingredients:
Corylus avellana (Hazel) seed oil, Simmondsia chinensis (Jojoba) seed oil, Rosehip seed oil, Punica granatum (Pomegranate) seed oil, Cupressus sempervirens (Cypress) leaf oil, Boswellia carterii (Frankincense) oil, Cananga odorata (Ylang ylang) flower oil, Helichrysum italicum (Immortelle) flower oil.
What Others Think About Simply Neck Oil
Pros and Cons
Pros:
Manufactured in the USA
Highest quality ingredients
Over 750,000 products sold since 2001
90 Day Money Back Guarantee
Nourishes, moisturizes and improves skin elasticity
Smells great
All-natural. Formulated using pure plant extracts
Comes in two sizes
Ships same day
Cons:
Not recommended if you're pregnant or breast feeding.
Some people may look at the price and find it expensive for the bottle size but at the same time, I look at it as an investment for your skin, as going to a dermatologist can be much more expensive, especially with repeat visits.
Results can vary and there is no guarantee, so some people may see better results than others.
Final Thoughts
Simply Neck Oil helps tighten the skin as well as increase the appearance of the skin's overall elasticity. It's hydrating to the skin to help minimize developing lines, wrinkles and "turkey neck." The result is a beautiful décolletage. I have tried many of Healing Natural Oils products and I know I will be a customer for life. Many of my reviews are on their products alone because I see such a difference and I know I am doing something good for my body and my skin.
If you want to see a difference in your décolletage, I hope you give Simply Neck Oil a try. Healing Natural Oils also has a 90-day money-back guarantee so you have time to try the product for yourself to see if it works for you. I believe you will see a difference and your neck will thank you for it.
Just a note to be aware of scammers that try to sell this product through a different site. Please be cautious of this as it is safest to order directly from the manufacturer's official website so you know that you are getting the real product.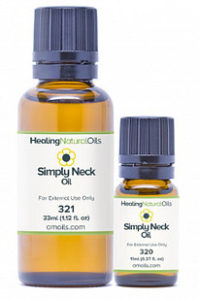 Where to Buy Simply Neck Oil
Click here to buy Simply Neck Oil
This will take you directly to Healing Natural Oils to purchase. If you have any questions about Simply Neck Oil, please leave a comment in the section below and I will be happy to assist you.