Many people know that pure coconut oil has many uses but did you know that organic coconut oil has anti-viral, anti-fungal and antibacterial properties? I was surprised by this so I decided to research the health benefits of organic coconut oil and what I found was pretty amazing.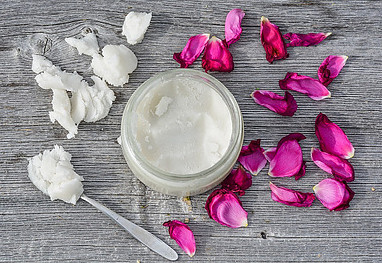 Increases Metabolic Rate
Using virgin coconut oil can stimulate metabolism and provide an immediate source of energy. This was kind of a shocker for me, as I know that as I've aged, I tend to feel more tired during the day.
So, how does organic coconut oil increase your metabolic rate? It can be used to cook with like any other oil, which contains medium-chain fatty acids, or triglycerides MCT's, which have been shown in studies to raise the body's metabolism and decrease body fat. Yes, I said decrease body fat… I'm stocking up on coconut oil as we speak. MCT's actually contain strong antimicrobial properties. When you add coconut oil to your diet, you burn more calories because your metabolism increases, so incorporating coconut oil into a weight loss plan is a great idea, not to mention, a healthy one.
Healthy for Your Skin, Hair, and Nails
I also found that using organic coconut oil can help maintain moisture in the skin. This is great if you suffer from dry, itchy scalp, dandruff, hair loss, and frizz. The fatty acids in the coconut oil also make it perfect for nourishing chapped lips, dry cuticles, and brittle nails. Wow! Not all coconut oils are the same so make sure you look for organic-virgin coconut oil, which has not been refined or hydrogenated and contains no GMO's. You can even use as a moisturizer on your body for instant, deep moisture and a boost of protective antioxidants. (A dime-size amount is all that's needed)
Using as a Mouthwash (Oil Pulling)
Organic coconut oil helps clean your mouth from bacteria, viruses, and toxins. Forget the expensive mouthwashes that contain alcohol or may just mask germs and bad breath.
The term "Oil Pulling" is an ancient Ayurvedic dental technique that involves swishing a tablespoon of oil in your mouth on an empty stomach for around 20 minutes. This action supposedly draws out toxins in your body, primarily to improve oral health but also to improve your overall health. *Note…Spit the oil out in the trash, not in the sink as it can lead to clogging.
According to a 2016 study on 60 participants, oil pulling can reduce the number of bacteria found in the saliva and can help support proper oral hygiene. This is not recommended for people with allergies to coconuts or coconut oil. Keep in mind that this doesn't replace brushing your teeth or flossing.
Recipes
Hair Mask – 1 cup organic virgin coconut oil and 1/2 cup extra virgin olive oil. Mix together in a bowl. Apply a little bit of hair mask to clean, dry hair, gently massaging the mask in. Start with your scalp, working your way to the roots. Use a towel to avoid dripping. Leave the mask on for 30 minutes. Rinse well afterward and wash everything out with a good shampoo.
Lavender Body Sugar Scrub – 1/2 cup organic virgin coconut oil, 1 cup sugar, and 10 drops of Lavender essential oil.
Mix the coconut oil with the sugar and lavender oil, until it's soft and creamy, but not liquid. Gently massage it into your skin with circular movements, then rinse well to remove the scrub.
*Note…I would recommend this for your body only, as it could irritate the skin on your face. If you still want to try in on the facial area, use coconut sugar in place of regular sugar, as it is a finer texture and more gentle.
The Lavender Body Sugar Scrub is one of my favorite recipes as it's a rejuvenating method that helps remove dead skin cells and has amazing skin-boosting properties. It can boost circulation and improve blood flow, improve the appearance of your skin and you'll notice that moisturizers and masks absorb much better.
Massage Oil – 1 TBSP Coconut Oil and a few drops of your favorite essential oil. Mix together and apply for massage. Coconut oil is known to be one of the best natural massage oils. Many spas around the world use coconut oil as a massage oil because it's so good for the skin. It gently moisturizes and strengthens skin tissue and improves skin tone. Its antimicrobial properties protect it against bacteria, parasites, and fungi.
Moisturizer – What eliminates dead skin cells and minimizes wrinkles and lines? Coconut oil, of course, as it has anti-aging properties from lauric acid and vitamin E, which can revitalize the skin. Too much sun exposure? Coconut oil can help relieve sunburn, especially when combined with aloe vera.
Try this Aloe Vera Moisturizer with Coconut Oil:
1/2 cup organic virgin coconut oil, 2 TBSP aloe vera gel, 1 TBSP castor oil, and 20 drops sweet almond oil.
Mix the coconut oil with the aloe vera gel, add castor oil and almond oil and stir until it's all equally mixed. You can apply this aloe vera moisturizer with coconut oil to your face and body. Gently massage it into clean skin and let absorb. Store the remaining moisturizer in the fridge.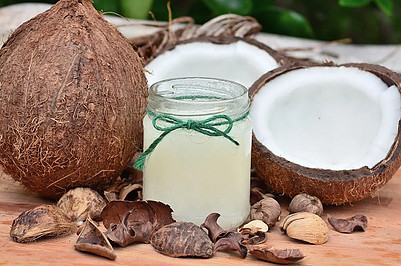 Conclusion
With all the added health benefits of organic coconut oil, you can skip buying all the fancy moisturizers and deep conditioners. The main benefit for me is a healthy inside and a healthy outside, all from using just this one product. Are you ready to find out how it can work for you? With organic coconut oil, you may just start to see and feel a difference from how you feel, to how you look. Who wouldn't want to increase their metabolism, raise their energy level and have healthy and radiant hair, skin and nails? I know I would.
I would love to hear from you if you've tried any of these recipes or if you have any questions about the health benefits of organic coconut oil. Please leave a comment in the section below and I will be happy to help.