What exactly is eczema? Eczema is a condition where patches of skin become inflamed, red, itchy, cracked and rough. Blisters can sometimes occur. It's also called dermatitis. The cause is unknown, however it is likely caused by both genetic and environmental factors. Different types of eczema affect 31.6 percent of people in the U.S. Many people in my life have suffered with this skin condition which has prompted me to write this H-Eczema Formula Review.
One commercial that I've seen on television lately is a prescription medicine to treat eczema. It's not a steroid but the commercial states that serious allergic reactions can occur and to tell your doctor if you experience eye pain or changes in vision when taking it. Having allergic reactions to some things myself, I'm not sure if I would want to play those odds or even chancing that my vision could suddenly change. No thank you!
Natural products will work with your body to heal your symptoms, as opposed to harsh eczema creams and prescriptions which could have adverse effects. Prescription medications may work for some but what about others who want an all natural product? H-Eczema is a homeopathic and safe formula that can provide relief and control symptoms of eczema.
How H-Eczema Formula Works
H-Eczema Formula works in providing relief from sores, itching and pain from eczema. This helps to reduce your outbreaks and assists in smoothing and moisturizing the skin. It is formulated with homeopathic components to address the most stubborn symptoms so that the skin is restored to a smooth appearance.
Active Ingredients:
Anacardium orientale 12C, Iris versicolor 12C
Inactive Ingredients:
Essential Oil Blend (Cymbopogon martinii aerial parts, Daucus carota seed, Helichrysum italicum flower, Lavandula officinalis flower bud, Martricaria recutita flower), Rosa mosqueta seed oil, Simmondsia chinensis seed oil.
How to Use:
Place a few drops of formula on your fingertips and apply topically.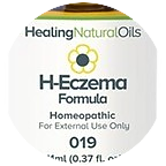 My Thoughts on H-Eczema Formula
I'm excited to see that there is an all natural product to use that has no harsh chemicals and that is safe enough to use anywhere on the body, even on children over 2 years of age. It has the highest quality natural ingredients and is formulated for all eczema symptoms, even dry and weeping eczema. If used as directed, it will target the symptoms so that the skin is restored and it will help re-moisturize the skin. The overall benefit is that you are using all natural ingredients on your skin and you don't have to worry about any terrible side effects.
What Others Think About the H-Eczema Formula


*Recommended by 27,000 on Facebook
Pros
Immediate relief from eczema symptoms. Decreases the severity and frequency of symptoms. Soothes the skin. Safe to use on children over 2 years. The manufacturer, Healing Natural Oils has sold over 750,000 products since 2001. Has a 90-day money back guarantee. Manufactured in the USA. The formula is manufactured according to the specifications in the Homeopathic Pharmacopoeia of the United States (HPUS). FDA Listed. All natural, no chemicals or harmful additives.
Cons
The only con would be if you are using this on large portions of your body or for multiple family members, you may have to buy a few bottles as they come in 11 ml size bottle and a 33 ml size bottle. A little does go a long way though.

Where to Buy H-Eczema Formula
Click here to buy H-Eczema Formula.
This will take you to Healing Natural Oils to purchase. The price is $29.95 for an 11 ml bottle and $69.95 for a 33 ml bottle. Free shipping is offered in the US over $49.
If reading this review, my hope is that you try this if you suffer from eczema or know someone that does. If you have any questions about H-Eczema Formula, please leave a comment in the section below and I will be happy to assist you.