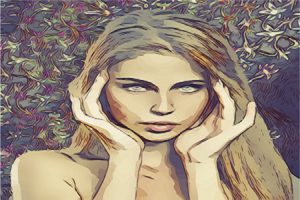 The art of blending essential oils can take practice but it's so much fun when creating your own blends. I started using essential oils a few years ago but just using single oils with a diffuser. I then took an aromatherapy course and I learned so much about treating different symptoms. Using essential oils in my everyday life has helped me so much but one thing my daughter and I both suffer from are constant headaches. With a little bit of experimentation, I learned how to use essential oil blends for headaches with rollerballs. These are roll-on bottles, normally called rollerball or roller bottles.
We were taking a great deal of ibuprofen every time we had the onset of a headache so I was looking for a different alternative to those nagging headaches that just stops you in your tracks. Only once I took the aromatherapy course did I find a natural way to cure it and I'm now hooked on my rollerball recipe, which I'm including here with the addition of a few other recipes for headaches that you may like as well. Each person is so different from what they prefer, so I hope you enjoy these 5 rollerball recipes.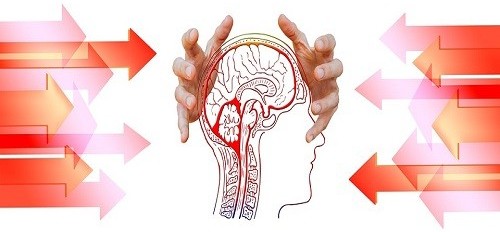 5 Rollerball Recipes for Headaches
The first recipe is the one I use for my headaches. I call it "Headache Away." My daughter loves it too. I ordered a few 10ml empty rollerballs off of Amazon and they were delivered in a day. It is important you use glass rollerballs and not plastic as the essential oils can disintegrate over time especially if you are using citrus oils. I also store my rollerball in a dark place like my medicine cabinet or refrigerator to best preserve the shelf life of the oils. Using 100% pure, top grade essential oils are best for the highest effectiveness. Please note to always blend them with a carrier oil of your choice. You can also visit my other post on how to blend essential oils together which lists different carrier oils and their uses on skin types.
Headache Away
8 drops of Peppermint
8 drops of Lavender
8 drops of Chamomile
5 drops of Frankincense
Fill roller bottle with carrier oil of your choice. I use sweet almond oil. (I've included a photo of my own rollerball blend)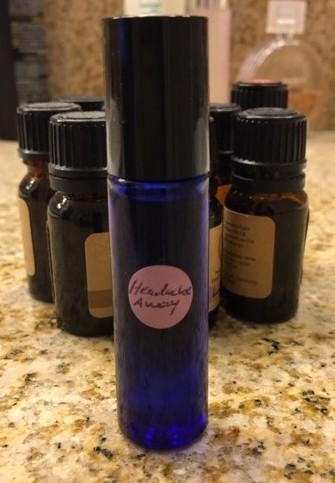 Goodbye Headache
15 drops Clove
9 drops Wintergreen
6 drops Ginger
9 drops Peppermint
Add carrier oil of your choice to 10 ml roller bottle
Headache Be Gone
2 drops Lavender
2 drops Rose
1 drop Chamomile
Fill bottle with 1 fl oz. Sunflower carrier oil.
Headache Buster
8 drops Lavender
5 drops Marjoram
3 drops Peppermint
Add Fractionated Coconut Oil to roller bottle.
Head Relief
4 drops Lavender
3 drops Peppermint
2 drops Eucalyptus
2 drops Cedarwood
Add Fractionated Coconut Oil to roller bottle.
Using Rollerball Blends
I find that for the best effectiveness, I roll on my wrists, behind my ears, my temples and the back of my neck. I have found that it normally takes 1 to 2 hours to really start feeling a difference and that my headache is gone. Additionally, it also uplifts my mood and I'm able to concentrate more on the matters at hand. The world of essential oils is growing in popularity, due to the oils ability to solve everyday symptoms naturally versus taking over the counter medicines. I believe essential oils can heal the mind, body and spirit however true wellness comes from working on yourself from the inside out.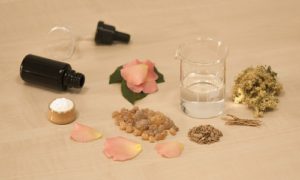 What You Need to Create Rollerball Recipes
Here are the few materials that are needed to make your own recipes.
10 ml essential oil roller bottles (glass bottles)
Essential oils to create your blend
Your choice of organic (cold-pressed) carrier oil
Dropper
*The roller bottles I purchased at Amazon included the dropper and a small funnel for easy mixing.
Rollerball Blending Instructions
Add the number of essential oils needed in the recipe to the roller bottle with the dropper
Fill the rest of the roller bottle with your choice of carrier oil (I like sweet almond oil & Jojoba oil)
Put the rollerball on the bottle and the cap on and shake well.
Place a label on the roller bottle so you know which recipe it is if making other blends.
*I sometimes add the date on the label so I know when I made it. You want to store your blends in a dark, cool place such as your medicine cabinet or refrigerator. Granted, if in the refrigerator, it will be cold to the touch on your skin using the roller ball but I have to say, it does feel really good. Especially on hot days.

My Conclusion
Those are the 5 rollerball recipes using essential oil blends for headaches. Once you make one, you will find yourself wanting to try different recipes for different symptoms. Its fun to do and best of all, it's all natural. Having these blends on hand will save you so much time when you feel that headache coming on and you can feel confident that you are using an all natural remedy. So natural that they have been used in wellness practices dating back from 5,000 years ago. I find this so amazing.
Aromatherapy is a treatment of holistic healing and enhances both physical and emotional health. Did you know that the actual term "aromatherapy" first originated in 1937 when French chemist Rene-Maurice Gattefosse invented the word after a burn incident spurred his curiosity about the healing power of essential oils? It was later after his discovery that Lavender oil helped to cure his burn, that French surgeon Jean Valnet used essential oils to help heal soldier's wounds in World War II, proving the medical benefits of aromatherapy. I found this so fascinating that I wanted to share this piece of history with everyone.
I hope you enjoy making these rollerball recipes and please remember you should always let your doctor know you're considering essential oil therapy to avoid any negative interactions with medications. Essential oils should also never be ingested to avoid toxicity. I recommend to always blend oils for optimal benefit. This is why I love the rollerballs. Diffusers are a must have in my home too and are a great way to reap the benefits for overall wellness.
Did you like this article or find it helpful? Did you use one of the headache rollerball recipes? If so, I would love to hear what you thought or if you have any recipes you would like to add. Please share with us in the comment section below.