Did you know that you can disinfect and freshen your entire home with essential oils? Essential oils are a natural alternative to chemical cleaners that we have been accustomed to using over the years. Included below are some essential oils cleaning recipes that have become a must have in my home. They are among my six favorite homemade cleaning products for their uses in daily cleaning.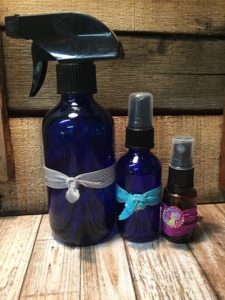 Since these are all natural homemade recipes, they are much safer to use and better for our health and environment. Research has shown that many essential oils are anti bacterial and anti fungal, are packed with antiseptic compounds, and can safely remove bacteria found in our homes.
What Do We Use With Essential Oils to Clean?
The main reasons I use essential oils to clean are to kill bacteria, viruses, fungus and mold. Other benefits from essential oils help to break down grease and grime and they offer that delicious aromatic punch which freshens a room. You will find that you will need white distilled vinegar, distilled water, castile soap and a carrier oil for many all natural recipes you can make with essential oils. Looking to get started with your own essential oils? Try these individual oils and blends.
They are 100% natural, vegan-friendly, and sustainable.
Vinegar will kill Salmonella and e. Coli. (Lavender essential oil has been known to kill e. Coli as well)
You can use any kind of carrier oil such as olive oil, fractionated coconut oil, sweet almond oil, jojoba oil and more.
Castile soap is non-toxic and can be used in many different cleaning products. It also provides a soft natural lather.
Wood Cleaner and Polish Recipe
1 cup distilled water
1/4 cup distilled white vinegar
2 Tbsp carrier oil of your choice (I use olive oil for this recipe)
5 to 10 drops essential oil (I use a blend of Lemongrass & Lavender – 5 drops each)
Combine in a spray bottle, shake well before use. Spray on and wipe off with a microfiber cloth.
*I love this cleaner because I use it on just about everything in my home. It's not just for wood. I use it on my granite counters, my floor, my tile and all of my wood furniture as well. It smells wonderful and kills bacteria. Trust me, it will be your new go to for cleaning.
See my video below on how to make this all natural cleaner.

All Natural Kitchen Wipes
30 mls castile soap
1 cup water
1/2 cup distilled white vinegar
8 drops Lemon EO
8 drops Peppermint EO
4 drops Tea Tree EO
Small cloths
1 Mason Jar
Add all ingredients together. Put them into a jar. Add your cloths.
*In reference to EO above, EO = Essential Oil.
**These are great to use for small messes and easy clean-ups. I take them with me when I travel as well, keeping them moist in a travel size jar.

Foaming Hand Soap Recipe
1 foaming soap dispenser
1 Tbsp castile soap
Distilled Water
1 tsp vitamin E oil (optional)
5 drops essential oil (Around the holidays, I use Peppermint EO. Smells wonderful)
Fill dispenser almost to the top with distilled water. Add the castile soap and essential oil.
Peppermint Window and Mirror Cleaner Recipe
1/4 cup rubbing alcohol
1/4 cup white distilled vinegar
3 cups filtered water
20 drops Peppermint EO
1 spray bottle
Mix all ingredients together in a spray bottle and shake well before use.
Clove Essential Oil Mold Cleaner
Use clove essential oil to kill mold in your bathroom. You only need 1/4 tsp of clove essential oil and 1 liter spray bottle of water. Shake well and spray on surfaces where mold tends to grow, like sinks, showers and indoor walls. Let the spray sit on the area for at least 1 hour before removing it with a wet cloth or brush.
*A note here to make sure you use protective gloves when cleaning with clove. Clove oil can kill infectious bacteria and is a great mold remover because it actually kills spores, rather than just bleaching and hiding them. It is recommended to do a test patch first to make sure the surface doesn't get damaged.
Looking To Make Your Own Air Freshener For Your Home?
Try this fantastic recipe.
1 tbsp witch hazel (or rubbing alcohol)
30 drops essential oil (I like a blend of Cinnamon EO and Sweet Orange EO – 15 drops each)
1/2 cup distilled water
A 4 oz. fine- mist spray bottle
Add the witch hazel or rubbing alcohol to the spray bottle. Add your essential oils of your choice. Swirl the bottle to combine the oils with the witch hazel. Top it off with the distilled water, leaving a bit of room at the top for shaking. Shake well and spray into the air.
I love the smell of this blend that takes over the senses. It actually lifts my mood and reminds me of being at a spa. That's always a plus in my book. Studies have shown that smells have instant psychological and physiological effects. Essential oils work in this way.
For example, it's commonly known by realtors that the smell of vanilla can give a potential buyer the feeling of home and even help them in their decision to buy. I know this part firsthand since I was a realtor working in new home communities back in 2005 and we always used the plug in vanilla air fresheners which I do believe made a difference with some of our buyers.
Scent by inhalation can be very powerful and effective. Did you know that in addition to Lavender having a calming effect, in studies it has been shown in helping ADHD patients focus better? Essential oils should be called amazing oils, to me anyways. They are essential but they are truly amazing!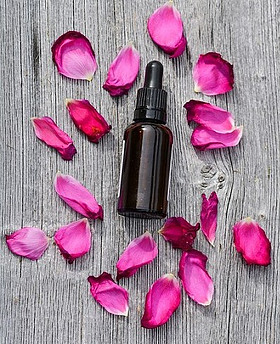 Conclusion
The reasons for making your own essential oils cleaning recipes is really due to the long list of benefits that they have and being able to use all natural products that are safe for our overall health.
Lastly, here are a few tips that will help improve your cleaning routine.

Store all your homemade essential oil cleaning products in a cool dark place, out of reach and sight of children.
Viruses and bacteria can grow resistance to antimicrobial agents. It is recommended to use a mix of different essential oils for cleaning purposes to prevent this immunity.
I hope these homemade cleaning recipes become a favorite of yours as they have for me. If you have tried any of these and would like to share your thoughts or your own cleaning recipes, we would love to hear back from you. Please share your story in the comment section below.