Well, it happened…I turned the fabulous "FiFTY." Some people dread turning the big 5-0 for a variety of reasons, but not me. I'm excited about it. I see this milestone birthday as the age of respect. I have knowledge I didn't have in my 20's, 30's or even 40's. I have experiences I wouldn't trade as it has made me the person I am today. As life has gone by, I've become more relaxed and most of the time, I don't sweat the small stuff. For me, with age has also come peace in knowing that God is in charge. I've learned to live in the moment and enjoy every day.
I've also learned to be grateful for what I now know and can share with others, and that is the healing powers of essential oils and how they have changed my life for the better. I feel healthier and more vibrant than I did even 10 years ago and much of that is contributed to using all-natural, plant-based products in my body and on my skin. I'm embracing this milestone and wanted to share it with the world. These are some of the most requested topics and what I've learned over the years leading up to turning 50 with essential oils.
My Favorite Mood-Boosting Oils
When inhaled, essential oils have the ability to interact with our limbic system, which is connected to our mood and emotions so they have the unique ability to give our mood an uplifting effect. Here are the essential oils I found that work best for me as a mood booster and I hope they can help you too.
Lavender – I never go without this oil in my bathwater. Carry it around in your purse and sniff from the bottle for a quick pick me up any time of day. Lavender essential oil can have a positive effect on anxiety, stress, and depression. It can also promote relaxation and promote better quality sleep. This is a powerful mood booster!
Peppermint – Effective for preventing fatigue, getting rid of headaches, and taking the edge off of stress. Inhale it right from the bottle and you're good to go! This is another oil I carry with me, especially when I'm feeling sluggish or feel a headache coming on.
Lemongrass – Mmm! The smell of lemongrass reminds me of a lemony, fresh, clean fragrance. I love diffusing this oil or pouring some in a spray bottle and misting the rooms in my home. Most citrus oils have mood-boosting properties but this oil can also help with mental exhaustion so I love breathing it in to get recharged from my day, or even before I begin my day. I was also surprised to learn that this wonderful oil can help reduce fevers. If you ever take a trip to Jamaica, you may find that lemongrass is referred to as "fever grass" and is often consumed as a tea to help reduce fevers. That's amazing!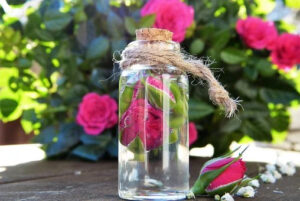 Rose – I love this essential oil for many reasons. It's not only relaxing but calming to the mind and body. I like using it in my diffuser or my bath and once you inhale its beautiful bouquet of fresh fragrant roses, you'll feel like your walking through a rose garden. Experiencing some anxiety or stress? Get an aromatherapy massage with Rose oil. It can also help treat depression and is known to decrease blood pressure, heart rate, cortisol levels, and blood oxygen levels. Need to stimulate your sex drive? Yes, I did say that. :>) Some studies have found that inhaling rose oil can increase sexual desire and sexual satisfaction. Need I say more?
The Best Carrier Oil For Aging Skin
I have tried different carrier oils and many of them have wonderful benefits but my favorite oil for aging skin is jojoba oil. Why? I found that jojoba mimics your skin's natural oil levels so that your skin can maintain a soft and healthy appearance. Because it's so light, it's a good oil to use for facial blends. I like using it due to having sensitive skin and I have never had any type of skin reaction but you should always do a small elbow patch test first to see how your skin reacts before using it on your face. For more information on what carrier oils you can use to dilute your essential oils with, click here.

The Top Single Oil For Wrinkles
Studies have found that lemon oil could help reduce the damage caused by oxidation. Its become a commonly used ingredient in anti-aging skincare products, which has its own vitamin C benefits and helps prevent sun damage, which ultimately leads to wrinkles. All citrus oils, including lemon, make the skin more sensitive to sunlight so it's recommended to avoid sun exposure for several hours after using lemon oil or apply before bed. Lemon oil can be diluted with a carrier oil and applied topically to your skin or by adding one drop of the oil to your daily cleanser. An elbow patch test is always recommended when trying a new oil. This ensures that your skin doesn't have a reaction or irritation to the oil. This is a great all-natural alternative to chemical creams and lotions.
No More Joint Pain
I found the following oils the most beneficial to manage discomfort, pain, and inflammation.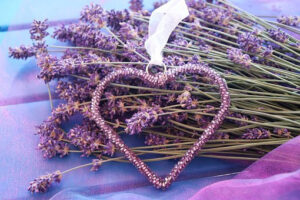 Lavender – Can reduce inflammation around joints since it contains anti-inflammatory compounds. It has worked wonders on the morning pain and numbness I had on my hands and wrists. I actually thought I had carpal tunnel syndrome last year, but miraculously the pain and numbness I was experiencing in my hands and wrists went away in a short time using my lavender oil. I even wrote an article about it which you can read here. https://blendedgardens.com/treating-carpal-tunnel-syndrome-naturally/.
Eucalyptus – Has a refreshing and cooling effect that contributes to its anti-inflammatory properties, reducing stress and providing pain relief for joint and muscle pain. (Also works great by diffusing if you're congested or sick)
Peppermint – Has been used for thousands of years for joint pain, aches, and inflammation. It is one of the oldest medicinal plants in the world and is highly effective for reducing pain and inflammation because it contains menthol, which acts as a cooling agent that works to ease discomfort and pain.
Lemongrass – I love this oil for its variety of uses! Lemongrass has been used for treating arthritis symptoms, such as joint pain and inflammation. Lemongrass oil is absorbed by the body and can draw excess fluid from body tissue, reducing inflammation and improving flexibility. I have used Lemongrass oil many times for lower back and shoulder pain and it really does work. You might smell like lemons afterward, but the reward is feeling the pain subside quickly. Love my Lemongrass!
Conclusion
As the saying goes, "If you don't have your health, you have nothing." This has always been true for me because I know when I feel healthy starting from the inside out, the outside will follow as well. My hair has finally grown longer and my aging sensitive skin has changed to a softer and more youthful look. (I love being told that I look much younger than I am)
I've also noticed that I don't seem to suffer from allergies the way I used to. (A diffuser is wonderful for this) If I need a mood booster, I have my little bottle of Lavender or Peppermint oil stashed in my purse and know that at any time, I can just breathe in its wonderful scent. It really does change my grumpy mood kind of days. Just inhaling these scents a few times a day can boost my mood and help me feel more relaxed. I go from grumpy to a "you got this girl" kind of feeling, and it really does feel good. The peppermint essential oil even helps with my headaches. I just wish I would have known about the healing power of essential oils long ago, but as some would say, "With age comes wisdom." Life is good…and 50 is FABULOUS!