Being a lover of essential oils and their healing benefits, I've been looking for an oil blend to help with better quality sleep. In the past, I've used my diffuser with peppermint essential oil or a combination of my favorite oils, lavender and rose (or even lavender and roman chamomile) for a calming environment, which would help me drift off to sleep. But now that I'm going through menopause, I've recently experienced many nights of tossing and turning that left me unable to fall asleep (or even stay asleep). I would feel so exhausted and sleep-deprived the following day which left me with low energy levels and finding it hard to concentrate at work.
Something had to change, but I wasn't about to take prescription sleeping pills or any kind of over-the-counter medication. I have used many oil blends by Healing Natural Oils and stand by their products, and was so happy to see that they have an all-natural Sleep Aid Formula. I ordered it right away and thankfully, received it within a few days. Here is my review of Sleep Aid Formula.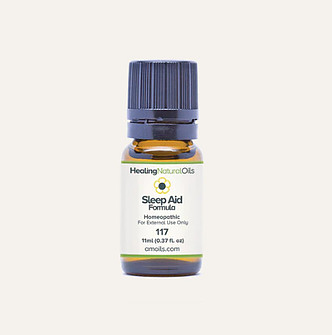 How Sleep Aid Formula Works
Sleep Aid Formula is a natural product with homeopathic ingredients which have been carefully selected to ensure that symptoms of sleeplessness are addressed naturally. Apium graveolens (also known as wild celery) contains a soporific active principle and assists when one cannot sleep from an overactive mind or awakes in the night.
All homeopathic components in Sleep Aid Formula are manufactured according to the specifications in the Homeopathic Pharmacopoeia of the United States (HPUS) and are monographed for use as homeopathic ingredients.
How to use:
Massage one or two drops on the temples and back of the neck 30 minutes before bedtime. If you wake up during the night, you may reapply. Full instructions are included with the product.
The ingredients in the Formula are soothing and will relax you and aid in sleeping. It's a perfect way to enjoy a good night's rest safely and naturally. The product may be used from age 4 and up. Do not use this product if you are pregnant or nursing.
My Thoughts on Sleep Aid Formula
The Active Ingredients: What is Apium Graveolens & Salvia Officinalis?
I researched more on Apium graveolens and found that this herb alkalizes the body as a whole and detoxifies with specificity to the musculoskeletal system. The alkaloids in Apium appear to have a depressant and calming effect, which are useful in nervous restlessness and spasmodic tension. I found it interesting that it also has anti-fungal and anti-inflammatory properties and can be used as a powerful diuretic cleanse and is known to remove toxins from the body. Apium graveolens has an enlarged root tissue that is cooked in soups and stews or grated raw on salads. The chemicals in different parts of this celery plant may have many effects on the body, including lowering blood sugar and blood pressure and causing sleepiness. I never knew that celery had so many health benefits.
Salvia officinalis (sage) is a plant in the family of Labiatae/Lamiaceae and has been used for the treatment of different kinds of disorders including seizure, gout, ulcers, inflammation, dizziness, rheumatism, paralysis, diarrhea, tremor, and hyperglycemia. The aerial part of this plant has a long history of use in cookery and traditional medicine. In recent years, studies of this plant have revealed a wide range of pharmacological findings. Some of these findings include anticancer, anti-inflammatory, antioxidant, and antimicrobial. It is used for a number of medical applications, including inflammation and indigestion.
The first night using Sleep Aid Formula, I really didn't feel much of a difference. I still woke up in the middle of the night but was surprised at how quickly I fell back to sleep. (Normally, I would be awake for hours) By the second day, I applied a little to my wrists, in addition to the back of my neck and temples. I fell asleep quickly and stayed asleep. I woke up a little groggy but felt rested. (I think the key here is to apply only a little to those areas. Don't go overboard with it. A little goes a long way) By the third day, I was sleeping through the night and can only say how grateful I was for finding this magical oil. Anyone that has trouble sleeping and tries this may just feel it's pretty magical too. I've been using it for three weeks now and never want to be without it.
What Others Think About Sleep Aid Formula



Pros and Cons
Pros:
***90-day money-back guarantee – I like that there's no risk and this gives you time to try and use the product
Natural sleep aid for mild to chronic sleeplessness
FDA listed & manufactured in a GMP facility
Highest quality, all-natural ingredients
Manufactured in the USA
Free shipping on orders over $49
100% natural and gentle on the skin
Over 1,000,000 products sold since 2001
Safe for 4 years and up
Used by people throughout the world for over a decade, Healing Natural Oils products are sourced naturally from carefully selected homeopathic remedies and pure essential oils. Because of this, they guarantee no chemicals, drugs, or additives are ever added.
Cons:
Wish they offered a bigger size bottle than 11ML. – (you only need to use a small amount, so it should last a while)
Results may vary. There is no guarantee of a specific result
Final Thoughts
For best results, it's important to follow the directions when applying Sleep Aid Formula. You only need a small amount. Massage a few drops into your temples and back of the neck 30 minutes before bedtime. You may also use a few drops of formula in your bath water, shortly before bedtime. The Formula will relax you and aid in sleeping without the harmful side effects of sleeping pills. It is strongly recommended to avoid any type of stimulant in the evening, especially tea or coffee after 4:00 pm in order to develop a relaxed evening routine.
As everyone's skin is different, it's best to do a skin patch test before applying for the first time. I always test a new oil on my elbow first and wait 30 minutes or so, making sure my skin has no sensitivities or reactions to it. This is an all-natural and non-habit-forming formula. I'm so happy that I found Sleep Aid Formula and I hope this review will find its way to others that want to combat the symptoms of sleeplessness naturally.
Price – $32.95 for 11ML bottle
Where to Buy Sleep Aid Formula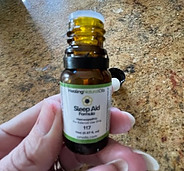 Click here to buy Sleep Aid Formula
This will take you directly to Healing Natural Oils to purchase. If you have any questions about Sleep Aid Formula, please leave a comment in the section below and I will be happy to share any information on this wonderful oil blend.