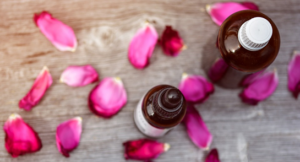 Many people have asked me how to use essential oil or how to use it in their daily lives, so I thought I would share my daily routine on what I feel is best for my health. The reason I have researched essential oils and shared what I have learned from my experience is to help others understand how essential oils may be able to work for them as a better alternative then chemical based products and prescription medicines.
In addition to masking some symptoms, drugs usually don't provide any coverage for the immune system while essential oils are constantly trying to provide strength. I am not saying that I will never use western medicine but I will always try a natural way to take care of my health first. Most importantly, I don't have to worry about side effects. I am also convinced of their benefits because I use them in my everyday life and I have seen some amazing results.
My Daily Routine
This morning when I got up, I had a headache from what might've been weather related. It has been snowing here and then cold at night so sometimes the weather wreaks havoc on my mood. I decided to use my rollerball blend of essential oils behind my ears and on my temples and approximately 30 minutes later, my headache was gone. I call this rollerball blend, "Headache Away." I really don't take ibuprofen anymore and that is an amazing testament to myself as I use to pop ibuprofen like they were candy less than a year ago. This has been a true life saver for me as I know that long term use of ibuprofen can damage your liver.
Here is how I use essential oils in my daily life: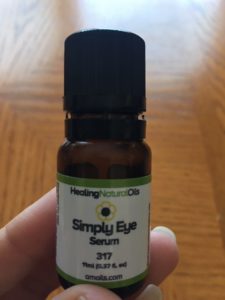 In the morning, after washing my face, I use "Simply Eye Serum" by Healing Natural Oils. This is a blend of pure natural essential oils. This one product has done wonders for my dark circles under my eyes. I think of it as my secret little find.
You can see my review and my before and after photos here
The next thing that I use is a homemade herbal pain salve on my lower back and shoulders, which are two places that I usually have the most pain from, especially after working out. It provides amazing relief from those stubborn aches and pains. There was a point where I could barely bend over to pick up something off of the ground because of the chronic pain that stemmed from by lower back. This has also been a great pain reliever for my significant other. He suffers with pain from an old motorcycle accident and this has really helped him in his shoulders, neck and back. Many people have asked me for this recipe which I have included below.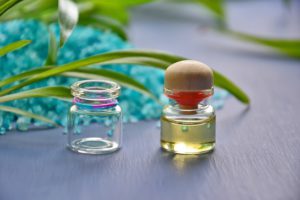 Other Uses
If I'm without my herbal pain salve and I need pain relief, I also like using pure Lemongrass essential oil. Lemongrass oil is an anti-inflammatory which is why it works so well on aches and pains. It may surprise you to learn that it's also antibacterial, anti-fungal and anti-cancer. This is another oil I can't live without. I have used it directly on my skin, particularly my lower back and shoulders.
Since everyone is different, I do not recommend starting out by applying it directly on your skin. Lemongrass oil is very potent so it should be diluted. You should mix only 2 drops with a small amount of a carrier oil. I like sweet almond oil but jojoba oil works well for this too. I will tell you that it does have a slight burning sensation at first but then it goes away. I feel it working within my muscles and I get wonderful relief from joint pain. This oil is so versatile and one of my favorites that I wrote an article on it. You can read it here.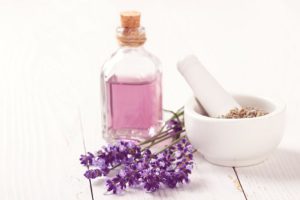 Another quick trick I have tried for sore muscles is using Lavender essential oil in unscented lotion and rubbing that on my body. It not only makes my skin smell wonderful but it helps relieve my aches and pains. Everyone should have this oil in their medicine cabinet. It has so many uses. I also love diffusing it in my diffuser. It definitely helps me sleep better.
Click here for more on how Lavender can benefit you
One of my favorite ways of using essential oils is making my own perfume. Let's just say that I have saved some serious cash by making my own fragrances and of course, the real reason is because I'm not using any harsh chemicals on my body, which most department store perfumes are made up of. I tend to make rollerball blend perfumes because I can take them with me in my purse and they are so easy to make.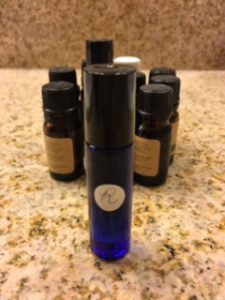 One of the unique fragrances that I make is called "Reborn". (I actually named it "Reborn" because it's the meaning of my name, which is Renee) I'm addicted to it for its heavenly scent. Apply to your neck and wrists and you're all set. You can find the recipe and other favorites here. These make great gifts as well. You can even have some fun making up names and labels for the bottles. Homemade gifts are the best.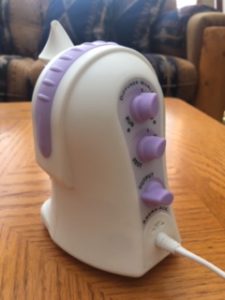 Diffuse, diffuse, diffuse! Diffusing is our nightly ritual. We have a diffuser that diffuses the essential oils in the air on a timer setting. We have it set to come on every 20 minutes on a 5 minute interval until we wake up. The diffuser has a control on it so you can set the control for how little or how much oil that you want to diffuse at each interval. It is wonderful! We sleep so much better at night, not to mention that it smells great and it purifies the air in our room. This diffuser is my favorite over my other diffusers because you need no water and no heat, which means no mess. See how it works here.
Cleaning my Home
When I clean my furniture, counters and floors, I love to use a very simple recipe to clean with, which smells divine and kills bacteria. Did I mention how much that I like Lemongrass essential oil? This cleaner uses Lemongrass and Lavender. Besides containing no harmful chemicals, the reason I use essential oils to disinfect my home is to kill bacteria, viruses, fungus and mold. Amazingly enough, Lavender has been shown to even kill Ecoli. Can you believe a few drops of oils can do all this?
Get my wood cleaner and polish recipe here. You will find more of my favorite recipes included.
Want a quick and easy air freshener recipe? Get a small travel size spray bottle. Fill it half-way with distilled water, add 5 drops Lavender and 3 drops Lemongrass and shake it up to use. You have a nice fragrant air freshener for your home. I mainly use mine in the bathroom. You can always experiment with other scents as well.
Recipes
"Headache Away" Rollerball Recipe
8 drops Peppermint
8 drops of Lavender
8 drops of Chamomile
5 drops of Frankincense
Fill roller bottle with carrier oil of your choice. I use sweet almond oil. Add essential oils, apply cap and gently shake. Apply behind ears, temples and back of neck. Smelling this right out of the bottle also lifts my mood. Store in a cool place.
"Herbal Pain Salve" Recipe
1/2 ounce of Beeswax
2 ounces Coconut Oil
10 drops Eucalyptus
10 drops Peppermint
5 drops Clove
1 Small Glass Jar
Gently melt the beeswax and coconut oil in a double boiler. Let it cool slightly and add the essential oils. Put in jar. Store in a cool place. I've stored mine in the refrigerator for a cooling effect.
Always do a patch test on your skin, such as your elbow before using a new essential oil. If you are new to essential oil therapy, it is recommended to consult with your doctor first to avoid any negative interactions with medications.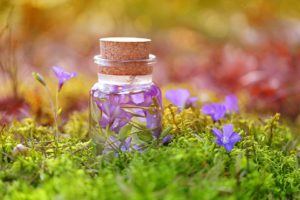 Conclusion
The reason for using and making your own essential oil products is due to the list of health benefits that they have. This includes improving skin conditions, elevating mood, promoting sleep, providing inflammation relief, boosting the immune system, healing skin irritations and disinfecting your home. If using the oils medicinally as an aromatherapy treatment, it has also been shown to improve physical, mental and emotional health.
Using essential oils in my daily life has been better for my overall health, my skin and my joints and muscles. It gives me peace of mind that I am doing something good for myself. Are you ready to see what they can do for you?
If you have any questions about using essential oils or any of the homemade recipes, please leave your question in the comment section below and we will be happy to assist you.